Tip Jar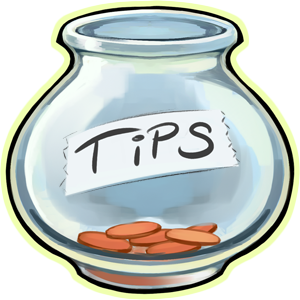 Hey, everyone.
Finances haven't been all that great on my end of late.  Between job stuff/game work and other bits and pieces that haven't fallen where I'd like, I'm falling behind on bills and rent.  As it stands I'll just barely be able to cover bills this coming month, but my rent is in question and I'm already behind on that.
I can't open up commissions right at the moment because I still have a queue to fulfill.  I've talked to others, however, and it's been suggested that I set out a tip jar.  With that said, I'm utilizing WePay because they just have a simpler setup, and I'm loath to utilize PayPal because of the difficulty of having a donation page without an actual website. (Tumblr doesn't allow form HTML on pages.)
Clicking on the jar above (or the link to the left) will get you to the page where you can read more about the situation, as well as the donor bonus I'm offering.  If you donate, you'll get an e-mail from WePay containing a thank-you message and a URL where you can download high-resolution copies of the My Punky Pony series that I finished recently.
Even if all you can do is look or provide a signal boost, I greatly appreciate whatever you can do.
Thanks a bunch, folks.  You're all awesome. :3
-Fusspot